Secondary Glazing
Secondary glazing is a window solution which improves thermal performance and reduces noise levels without affecting the appearance of a dwelling or building. For certain projects, such as window renovation on listed and heritage buildings, secondary glazing is also the only way to increase window thermal performance due to restrictions imposed on them relating to preservation of details of architectural and historical interest.
Our secondary glazing is a fully independent metal window system installed to the interior of an existing window increasing thermal efficiency and maintaining existing aesthetics. Our secondary glazing units are double glazed which have added benefits over other single glazed units available. They can be either openable, removable or fixed. Our opening units are side hung and these allow access to the external window for cleaning and ventilation purposes.
Benefits of Secondary Glazing
Secondary glazing is suitable for a wide range of both residential and commercial properties including listed and heritage buildings, offices, schools, colleges, universities, hospitals and hotels particularly in urban areas. One of the main reasons for the installation of secondary glazing is to alleviate issues such as heat loss and acoustic insulation. Other benefits may include:
Additional layer of security
Can be installed within conservation areas, Heritage and Listed buildings
Installed internally creating little or no mess
Maintain functionality of original windows
Low maintenance
Fine sight lines to maximise incoming light
Bespoke design to suit the original windows
Reduction of condensation – stops the inner glass from getting too cold and can prevent condensation forming on both primary and secondary windows
Easy to clean due to internal access
Additional soundproofing
Secondary Glazing for Listed Buildings
Listed buildings and period properties tend to have very poor insulation due to original single glazed windows, which in some cases can be a hundred or more years old. Bronze secondary glazing can be chosen to complement many styles without damaging the look of the existing windows or retracting from the value and aesthetics of a period or listed property. These installations are often found within conservation areas, Grade 1 and Grade 2 listed buildings.
It is essential to obtain Listed Building Consent from the relevant authorities and to enlist the help of an accredited company to undertake any work.
Heritage and listed buildings require specialist solutions in treating external noise and thermal performance. London and other UK cities have a high number of listed buildings and these buildings require creative restoration to capture the essence of their original design. Architectural Bronze Casements can work alongside architects, designers and clients on a variety of restoration and refurbishment projects. Benefits of secondary glazing for use in heritage and listed buildings include:
Building Regulation Compliance
Character retention
Bespoke styles
Thermal Performance
Noise Reduction
Improved Security
Fine sight lines will not block the daylight nor obstruct views
Below is an example of secondary glazing installed at Grade II* listed Christie Library at The Victoria University of Manchester.
Secondary Glazing for City Properties
Restoration programmes within city centres for both domestic and commercial properties have seen the conversion of older buildings into more useable spaces. These converted buildings require specialist solutions to treat issues such as external noise and thermal performance creating a more comfortable and quieter experience for domestic dwellers, hotel guests, students and office workers. Some of the properties may have heritage or listed building status and were built many years ago to standards of their time, but are now no longer suitable for modern day living.
City living offers work, restaurants, bars, culture and entertainment on your doorstep but for most urban homeowners noise, pollution and security can be of great concern. Architectural Bronze Casements can work with architects and clients in order to deliver solutions matching their specifications. Secondary glazing is an efficient and discreet solution to enhance issues connected with noise, thermal efficiency and security in buildings of all ages.
Example of secondary glazing for sash windows on a city property in London: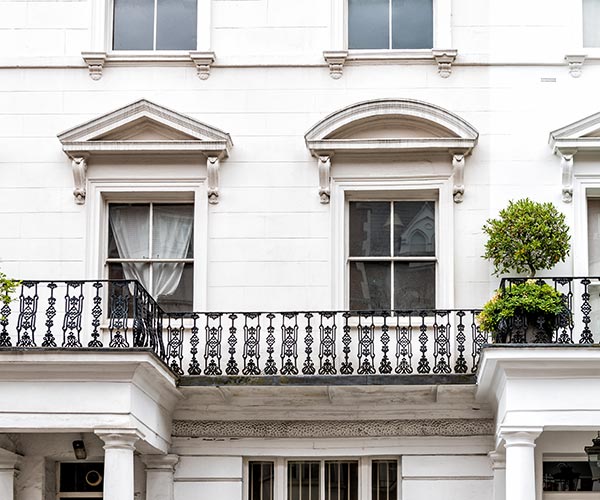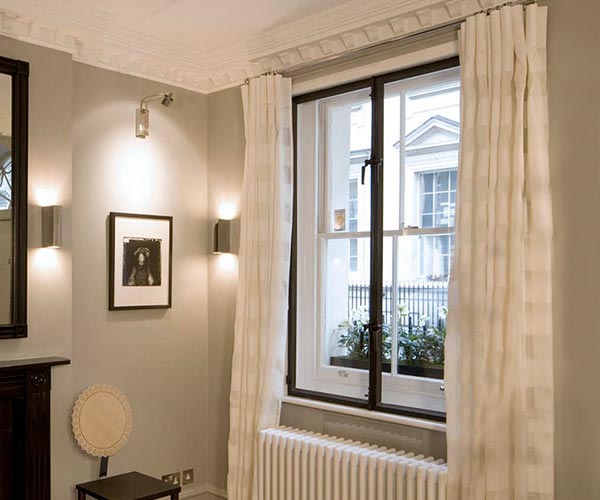 Secondary Glazing and the Environment
Secondary glazing encourages resource efficiency by supporting the retention of existing windows instead of the more wasteful process of replacing them. Many people tear out their original windows replacing them with more modern windows which may only last 10-15 years. Secondary glazing is an environmentally friendly alternative. An additional pane is added with no need to remove existing windows, disposing of fittings, glass or panes.
Window Systems for Secondary Glazing
Dependant on the interior aesthetic and shape of the opening, we have various window systems that are suitable for secondary glazing. Please contact us to discuss your project in more detail.
To see a collection of projects that we have completed installation of our secondary glazing, visit our Secondary Glazing gallery below.